"Keeping Up with Kardashians" on Netflix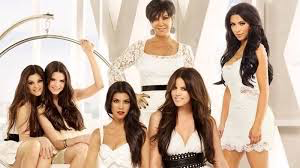 Since June 1st, the first two seasons of "Keeping Up with Kardashians" are available on Netflix.  The platform takes us back to the origins of the Kardashian Empire. The first 19 episodes, shot in 2007 and 2008, feature 27-year-old Kim, her mother and manager Kris, her brother and sisters, and their awful looks from the 2000s.
How do you explain the success of this reality TV show about a common American family? 
But it's obviously thanks to Kris and her children that the clan owes its fame, and in particular to Kim, who very quickly became the main character of the reality show. Virtually unknown at the time, the young woman's fame peaked after the release of a sextape filmed privately by the X Vivid film production company. A lawsuit ensued to recover the rights to the video, which Kim eventually sold for several million dollars. A few months later, the family signed a contract with E! to unveil their daily life in a program called The Incredible Kardashian Family.
But the Family Kardashian is also moments of sharing, around the children in particular, or of emotions, as during the trans coming-out of Caitlyn Jenner. She also had her own show: Call me Caitlyn.
Love, power, business, scandals… In short, all the perfect elements that a fiction could dream of, but in reality. So a word of caution before you embark on the first two seasons: Keeping Up with the Kardashians has a strong addictive potential.
By Justine Duclaux
photos: Netflix