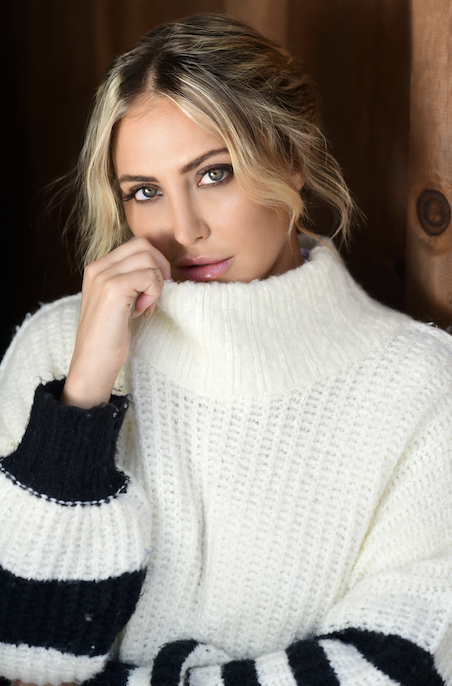 Cassie Scerbo is truly an inspiration to us all. Bringing beauty and brains to the table, the talented actress is also a voice against bullying with her role as Vice President of Boo2Bullying. Currently, she also has a movie out on Amazon titled "Agoraphobia" which you won't want to miss. Inspired by many in her life, Scerbo continues to let her inner light shine and helo others do the same as well. Keep reading more to get to know the amazing Cassie Scerbo!
Tell us more about your journey as an actress from your first role to now. What lessons have you learned along the way?
Well, my first job ever was an extra in a Burger King commercial, and not even a featured extra lol.. and funny enough, it was probably one of the most excitable reactions I've ever had when booking a role. Every offer comes with an indescribable feeling because acting is my absolute passion, but it being my very first booking I was over the moon. It's important to remember all of those moments, as it's easy to get caught up in always wanting more – which is a great trait, but it's just as important to remember how far you've come and to never take anything for granted. I've learned countless lessons since then, as I was only 10 years old and now I'm thirty. However, the most important thing I have learned within my career and life in general, is to always live in gratitude.
If you had to pick your favorite project, which would it be and why?
This is a tough one! I love each project for different reasons – different relationships I've gained, travel, learning and expanding as an actress, and the list goes on (and on and on).. Projects are what I would imagine children to one day be like to me, I truly can't pick a favorite. Each role I've taken on has been a stepping stone to get me to where I am now. They're all a piece of the puzzle, a part of the equation that is my career.
When meeting someone for the first time, what is the first thing you notice about them? First thing you ask about them?
This differs with every person I meet. Sometimes it's simply an energy thing, my soul just likes their soul! Other times it's their walk, laugh, eyes, style and so forth. To me, this is what make the world go 'round – all of the different people in this world with all of their different traits. The first thing I ask also differs.. If I hear an accent, I'll ask where they're from. If they seem down, I'll ask if they need someone to talk to. It's constantly changing.
To those who "judge a book by its cover," what would you say to them? In what ways can we stop the spread of judgment and hate?
Being the Vice President of Boo2Bullying this one really resonates, as it's what we teach in a simple sentence – "Don't judge a book by its cover." You have no idea the inner battles someone may be facing, or what is going on at their home. It's always better to lead with grace and kindness, you never know what life you just may be saving. I've been in this situation before. I was the only person to not jump on the bandwagon and make fun of this girl in middle school for countless ridiculous reasons. I would smile at her and express how upset it made me to my teacher and others. A few days later, I was called to the principal's office and thought I was in trouble for something I wasn't aware of. When I got into his office, the girl was sitting there. I was told that she needed a peer, someone to talk to as her dad was fighting cancer. This girl became one of my closest friends. I didn't care what anyone had to say. She needed me. And in many ways I needed her. I learned a lot that day that I will take with me for the rest of my life. NEVER judge a book by its cover, and ALWAYS be kind. You just might save a life.
As an actress, how did you react to "hate" and/or "pure criticism"? How did you reaction evolve over the years?
Hate will always be there. It's how you learn to overcome it. Grow from it. Become better because of it. That's all we can do in life. Take what's thrown at us and turn it into a positive, or use it as a stepping stone. Of course, it hurts. It hurts to be judged or hated on in any form, but it's all about how you react to it. I like to take those feelings and turn them into my fuel. When people hate on me, it makes me want to be that much better at whatever it is that is being said/hated on.
You are the Vice President of Boo2Bullying. Can you tell u more about your role and the non-profit?
Boo2Bullying is a 501(c)(3) and our mission is to eradicate bullying, intolerance and discrimination by educating our youth, schools and parents about accepting diversity and giving young people the tools to connect with and positively impact others. Our main focus is our school programs. I got involved about a decade ago as their "Girls Youth Ambassador" and my passion in serving became so extraordinary that being an ambassador simply wasn't enough any ore. I wanted to be able to do more in order to grow our organization to a global level. Boo2Bullying's former Vice President had just stepped down and so I was extended the promotion. I was 25 at the time and honestly had no idea what I was doing, but if you know me, you know I love a challenge. I love learning and I pride myself on being a hustler. There's nothing you can't do if you have the passion and commitment to learn.. so here I am, ten years later with a full board and team ready (and excited) to take on anything that comes our way!
What has been the most beautiful thing that came out of building this non-profit? What do you value most about it?
The most beautiful thing that has come out of Boo2Bullying is getting the chance to look into the eyes of a child or teen that's life has been drastically altered by your programming. There is nothing more fulfilling. Our purpose is to teach self-love and proper ways to combat hate. We want the students we speak with to feel safe and to know they're never alone. No one deserves to feel isolated, that is where a lot of negativity manifests. It's important to give our youth a safe space to learn and to also speak their minds.
Who/What has been an inspiration and motivation in your life? 
I've had/have numerous inspirations in my life. All of my mentors and inspirations serve such different and special roles. I'm inspired by my family first and foremost. All I ever want is to make them proud. When people believe in you as fiercely as my family believes in me, the last thing you'd ever want is to let them down. It is the absolute best feeling in the world when I get to call them with good news, because their support is fully the reason that I am where I am today. I've also had acting coaches who know all the corners of my soul and who have taught me to find my vulnerability and the strength that holds. Grandparents and my best friend Stephanie turned guardian angels are also a huge inspiration. I look to them when I simply can't find the answers and need guidance. Best friends, ex-boyfriends, the person I met at Starbucks. I find inspiration everywhere and for all different reasons.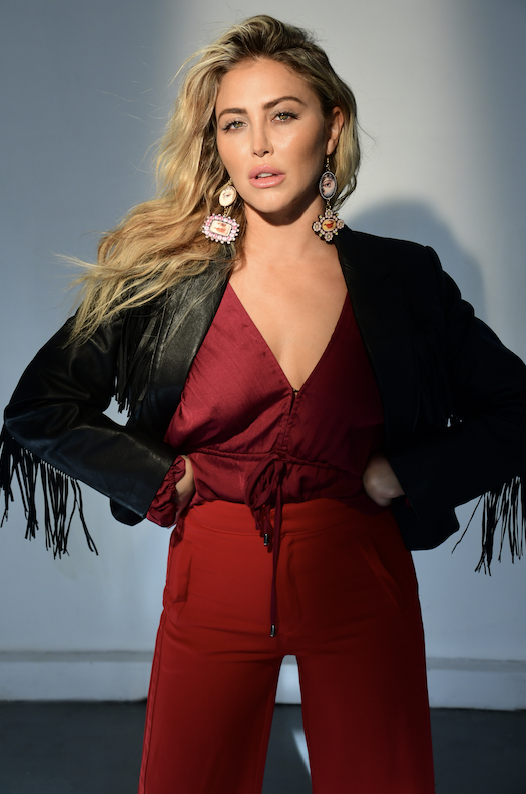 Tell us more about what fashion means to you. Now beauty. 
Fashion is freedom of expression. I love bold, chic looks. However, I believe it's how you wear a piece that makes it cool and fashionable. If you "own it", it's fashion. Beauty is whatever one finds beautiful. There is no definition to me. Sometimes there's not even a word or sentence that fits why something is "beautiful." There's beauty in all people, places and things. You just have to choose to see it.
When you think of your dreams, what are they? 
My dream is to simply be free. I think a lot. I care way too much about what other people think. It's lessened a lot over the years, but I'd like to fully let go of all those thoughts and fears of not pleasing everyone. The truth is you'll never be able to please everyone anyway, so you might as well DO YOU. Other dreams (I LOVE DREAMS) include getting married and having children. I've wanted to be a mom since before I can remember. I love nurturing and caretaking, it's always been innate for me. I want to win an Oscar damn it! I want my organization to be in every school in the world. To me, the sky's the limit!
@tilted.style
Talent CASSIE SCELBO @cassiescerbo
Photography by RUSSELL BAER @russell.baer
Interview by ALEXANDRA BONNET @alexbonnetwrites