CHRISTINA AGUILERA RELEASES NEW SONG "HAUNTED HEART"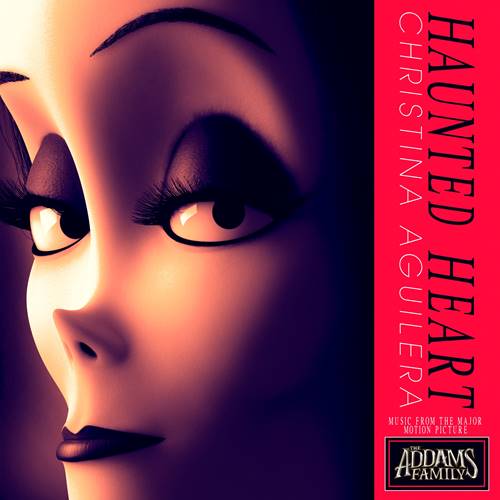 Global superstar Christina Aguilera releases new song "Haunted Heart" via RCA Records. Listen HERE. Featured in MGM's upcoming animated comedy The Addams Family, "Haunted Heart" is written by Aguilera, Antonina Armato, and Tim James and is produced by Rock Mafia. Check out the lyric video for the new song HERE. The Addams Family will be released in theaters on October 11, 2019.
Aguilera is currently headlining her exclusive residency show, Christina Aguilera: The Xperience at Zappos Theater at Planet Hollywood Resort & Casino and has just announced additional dates through March 2020. She is also touring Europe and Mexico on The X Tour throughout 2019.
The Addams Family features original songs from Snoop Dogg, Migos, Karol G and Rock Mafia, among others. Based on the famous New Yorker creations of Charles Addams, the kookiest family on the block is back on the big screen with an all-star voice cast led by Oscar Isaac, Charlize Theron, Chloë Grace Moretz, Finn Wolfhard, Nick Kroll, Bette Midler, Allison Janney, Elsie Fisher and Snoop Dogg playing IT. The film is directed by Conrad Vernon and Greg Tiernan.
About Christina Aguilera
‪Christina Aguilera‪ is a six-time GRAMMY Award-winning singer-songwriter renowned for her powerful voice and hit songs. Throughout her career, she has sold more than 43 million records worldwide. Aguilera has achieved five No. 1 singles on the Billboard Hot 100 chart making her the fourth female artist to top the chart over three consecutive decades (1990s, 2000s, and 2010s). She has received a star on the Hollywood Walk of Fame and holds the prestigious honor of being the only artist under the age of 30 included in Rolling Stone Magazine's list of the 100 greatest singers of all time. In 2011 she entered the world of television as a coach on NBC's Emmy Award nominated show The Voice. Aguilera has served as global spokesperson for Yum! Brands' World Hunger Relief effort since 2009 and has helped raise over $150 million for the World Food Program and other hunger relief agencies.
Follow Christina Aguilera:
Website | Facebook | Twitter | Instagram
————————————————————————-
The Addams Family Social Pages:
FB: @MeetTheAddams
IG: @MeetTheAddams
TW: @MeetTheAddams
Official Hashtag: #MeetTheAddams