Freddie Mercury's 'Living On My Own' Video Re-Made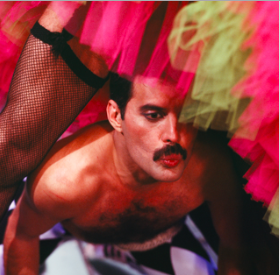 Freddie Mercury music is having a big month as October 11th is the release of his Never Boring solo box set and October 4th is the release of the remade music video for "Living On My Own." The box set will also include an album of Freddie's best solo performances and the 2012 edition of Barcelona. Freddie would be happy to know that his music is still resonating with audiences today, and even happier to see that his music video for "Living On My Own" can finally be enjoyed by his fans.
The context is that this video was originally filmed at Mercury's infamous 39th birthday party in Munich at the Mrs Henderson transvestite club. Documented in the hit movie, Bohemian Rhapsody, the party was a star studded event filled with 300 guests dressed in drag. In attendance were some of Freddie's closest friends like Mary Austin, Boy George, and Queen's manager Jim Beach. The video was shot on a 35mm revolving camera mounted on the ceiling for the entirety of the night's events. As you might guess, a Freddie Mercury party gets rowdy. The record company was shocked when they saw the footage and banned it from TV because of its "promiscuity." This didn't help the success of the single and it was forgotten until 1993 when the video released and brought the song to #1.
"Living On My Own" became one of Mercury's most fun and most watched videos, and we can now watch it in high definition with enhanced sound. Tune in to the legendary birthday party on Youtube tomorrow and remember the icon, Freddie Mercury.
By Sonja Grunfeld