Katie Sowers to become first female and openly gay person to assist in coaching a Super Bowl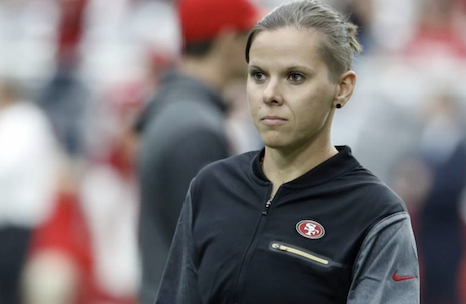 After winning the NFC Championship, the San Francisco 49ers are set to face the Kansas City Chiefs in Super Bowl 54. Katie Sowers has been an offensive assistant coach with the 49ers since 2017. With the team making the Super Bowl she becomes not only the first female but the first openly gay person to help coach in a Super Bowl. 
Sowers came out three years ago, making her the first openly gay coach in the NFL. She's used the platform she has to promote inclusivity in sports. She helped organized a pride fan club for the 49ers last year to recognize the team's LGBTQ+ fans. 
The game should be interesting for Sowers as she is originally from Kansas City and even has the city's skyline tattooed on her arm. Sowers seems happy about facing off against her hometown. She said in a tweet, "Niners vs Chiefs… I couldn't ask for a better game."
The Super Bowl will take place on February 2 in Miami. 
By Shannen Tierney
Photo: Rick Scuteri/Associated Press