NASA Lets You Explore Mars From the Comfort of Your Home With Their New 'AI4Mars' Program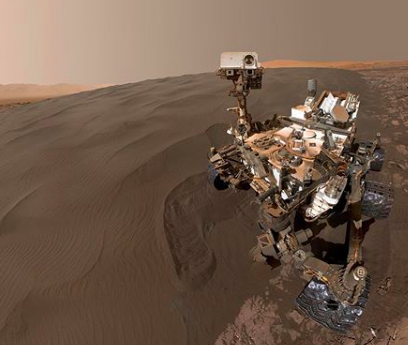 Were you one of those people that got extremely excited when NASA first announced (back in 2019) that they were planning to have human space exploration to Mars? I mean, the moon is nice and all, and without it, our beaches would totally suffer—but Mars! Anyways, thanks to NASA's new virtual online tool, we may now have a chance to visit Mars after all.
NASA's new AI4Mars program is the first of its kind, and allows users to label different parts of Mars, as the rover navigates throughout the rocky terrain—that includes sand, rocks, soil, and other never before seen characteristics of our close cousin. And best of all, every labeled feature is recorded into a large database that helps the men and women over at NASA get an idea of what kind of phenomena the rover is observing. 
In a statement made my NASA, the company said:
"You'll be using your superior cognitive and artistic abilities to label images from the Curiosity Rover, collectively creating the first open-source navigation-classification dataset of the Red Planet. It will be used – like the cityscapes dataset – by teams to train rovers to understand Martian environments, laying the way for future missions to unlock the secrets of our nearest neighbor!"
NASA's Mars Rover Drivers Need Your Help. Through the #AI4Mars project, you will label Martian images taken by NASA's Curiosity rover to train a deep learning algorithm that will be used in the ground operation of Mars rovers at NASA JPL.https://t.co/Vp8jQaD5qm

— David Lockett (@DavidJLockett) June 24, 2020
Click HERE to be taken to the official website for the AI4Mars program.
Photo: Instagram
By Matt Koger