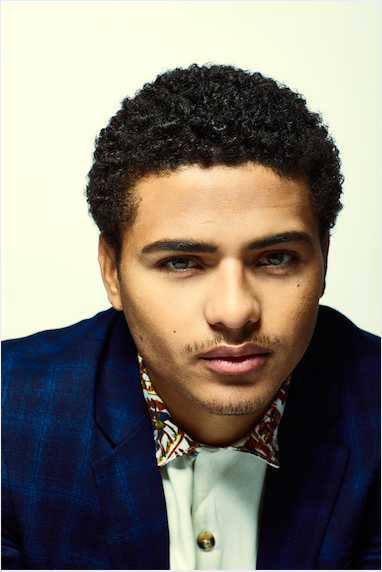 Nathaniel Potvin, who plays in the upcoming Netflix film, THE PROM, brings together his love for acting and for dancing all in one. Starting his day off with his much anticipated breakfast, the talented artist then goes on to fill his day with work and more! Also an advocate for equality and racial justice, Potvin uses his voice and platform to push forth the idea of starting conversations, opening up hearts and minds, and hopefully bringing us a step closer to true change, love, and acceptance. Make sure to stay tuned as there are only a few days left before THE PROM is out!
As an actor, what do you look most forward to when you wake up in the morning?
The thing I look forward to the most when I wake up is getting my day started and eating my breakfast.
Can you remember your first day on set of THE PROM? Describe that day to us, how you were feeling….
My first day on set was in the early months of 2020, and we were working at the Northridge mall which is a place that I frequented having grown up in the valley, so I was lucky to be able to work in a place where I felt so comfortable. I was definitely feeling a little nervous because we were going to shoot a number that we had been rehearsing for roughly a month at that time, so I was definitely a bit jittery.
Who was someone that truly inspired you throughout the filming of this film?
I think the person I met on set that inspired me the most was Keegan-Michael Key, who was just a joy to talk to whenever we had scenes together. As far as my character, I pulled from the young boys with narrow frame of minds that I had seen while growing up in the public school system.
Did you encounter any hard moment that stood out to you? How did you overcome it?
I think one of the most difficult moments on set for me was lip-syncing to my track that I had previously recorded, because I hadn't had to do that before—and didn't realize how much work goes into not singing but looking as though you are.
I eventually found that if I just sang along to myself it was easier, but there is a sort of science to it—like over annunciating certain vowels, and shaping your mouth properly.
When did you start your career as an actor? Was there anything that almost kept you from pursuing it?
I started any career as an actor when I was 11. I was originally a studio dancer which I really enjoyed until there was an acting class that started at the studio.  I enrolled and the rest is history. I progressed further and further, and flourished into the actor with the career that I have today.  I have had so many learning and humbling experiences that allowed me to grow as an artist and actor. The only thing that could have gotten in the way of pursuing acting would have been school or dancing, both of which centered around the friendships I had made. But I was enamored with acting and the enjoyment that I found in it–nothing could take me away from it.
You are also an advocate for equality and racial justice. Tell us more about what you believe your purpose as a human is. 
I was put on this earth as a Black American man, and It is something that is in my DNA with generations in my lineage who have suffered from oppression.  Being cognizant of this it isn't possible for me to not be a part of the movement towards racial equality and justice for those that have been wronged by a corrupt and flawed system. This country has failed so many minorities by promising one thing and then greeting them with oppression on a micro and grand scale. I feel that my purpose as an actor in this movement is to make my stance,e and to shed light on systemic racism using my platform and my art to reach as many people as possible to start and cultivate conversations.
How can others help spread awareness in your opinion? (other than the conventional ways)
I find that people can reach people on a primal level through art. No matter what it is, it can be music, painting, drawing, acting, filmmaking, even culinary arts can elicit people to understanding the love for not only black culture, but culture of all minorities.
How have your different projects shaped who you are as an actor today?
Each project I work on gives me more perspective than I had before. It rewards me with growth and learning as a human being. There are certain things that I've learned from other actors and creative members in the film making process that I didn't know before that I carry with me to the next project.
When you are not acting, what do you like to do?
I love to watch movies, create, cook, read, and enjoy the company of people I love.
New Year's resolutions?
I really want to take up piano so you can bet that in the new year I will be participating in lessons!
@tilted.style
Talent NATHANIEL POTVIN @nathanielpotvin
Photography by STORM SANTOS @stormshoots
Styling by VERONICA GRAYE @veronica.graye
Grooming by DION XU @makeupbydion
Interview by ALEXANDRA BONNET @alexbonnetwrites