Olivia Charmaine Is Bringing It with "The Tea"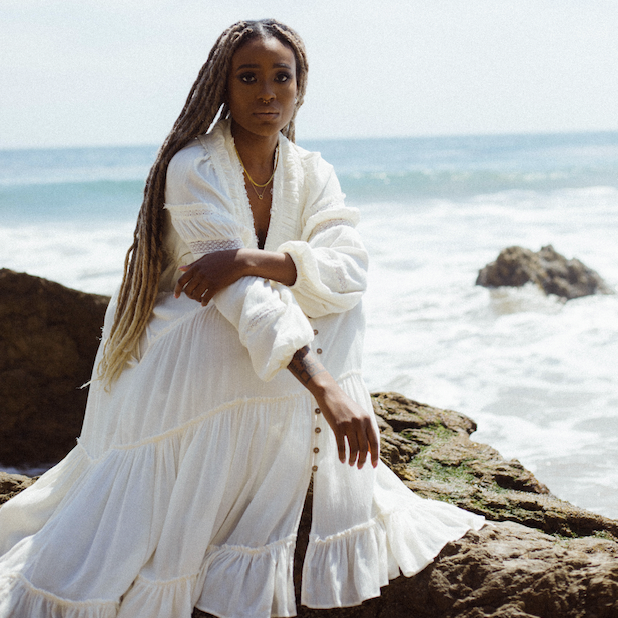 The beautiful and empowering Olivia Charmaine is bringing it with her weekly live stream show, "The Tea," currently on IGTV. A huge advocate for wellness and self-care, the starlet decided it was time to continuously stayed connected with those around her and check in! Learning more about the different people in the industry and what they go through, their dreams, and more, Olivia is giving a voice! Always overcoming any obstacle life throws her way, she reminds us to stay true to ourselves and spread love not hate… We're all human after all, so let's keep spreading awareness and a sense of love and solidarity!
Tell us the story behind "The Tea." How did your initial concept for it evolve?
I'm a huge advocate for wellness and self-care, and a key part of my routine has always started with a cup of tea. While we were all stuck inside our homes and fatigued by the onslaught of the negative news cycle during the height of the pandemic, I was inspired to find a consistent way to check in with my friends and other folx I admire. I wanted the time spent together to feel inviting and intimate and an opportunity for my guest to let their hair down, so to speak. These more informal conversations quickly evolved into a more traditional talk show format.
What does the show mean to you? What do you hope it will bring to others?
As an artist and media executive, I talk a lot with other artists and entertainment industry professionals in an effort to glean information about their career journeys, what inspires them, and insider business information that the audience might not know. My job for years has been behind the scenes, so it's also an opportunity for my community to get to learn more about the passions that fuel me. In addition to insightful information about how to achieve success in Hollywood, I hope "The Tea" provides an organic moment of self-care and peace as the audience relaxes and sips tea along with my guests.
How do you prepare for interviews? What is the most important thing you want to learn about your guests?
I prepare for each interview by conducting a fairly extensive amount of research about each guest so that I can craft specific, nuanced questions. I also prepare for the show by intentionally setting the space – lighting sage and candles, pouring my tea in front of the audience, and playing "The Tea" by Riah Dawn, which is an uplifting song about self-confidence. But, of course, the most important thing to learn about each guest is always tied back to wellness, as I ask everyone what their self-care routine looks like as they manage their busy, full lives in the public eye.
What makes you different/stand out? What is your favorite non-conventional trait in others?
I love that although I wear suits and dresses to the office, I'm unafraid to celebrate my casual, artistic side with my tattoos, ear piercings, and signature nose ring. In others, I appreciate a loud, quirky laugh!
Share with us a time you faced hate and how you overcame it. 
When I was in elementary school, students on the bus passed around a picture of me with a noose around my neck, and that wasn't the last time I faced racial prejudice as a child. However, as I grew older and I began understanding the dynamism of my blackness, I was able to celebrate my diversity through my art.
What does beauty mean to you?
I think leading with deep, intrinsic empathy and care for others is truly beautiful.
If you were to write a movie script, what would it be about and why?
I actually wrote a movie script back in film school, and it was about The Peoples Temple and the Jonestown massacre. I'm deeply fascinated by cults and the Civil Rights era in American history.
Tell us about a time you did something that terrifies you and what came out of it. 
Last summer, I left my job to start my own production company, Black Monarch Entertainment. Going from a steady paycheck, an incredible boss, and a role that carried status in town were truly terrifying, but it's been an incredible year of creating a safe space for artists to play and create. The team is growing, and we have a wide slate of TV and film projects that we're working on.
What was your childhood like, and how did it shape who you are today?
My childhood was rooted in a love for the arts. From performing on stage to playing musical instruments, I had very supportive parents who helped shape my extracurriculars into a viable career from a very young age.
What comes next?
Black Monarch Entertainment is a full-service production company, which means that we have the capability of crafting projects from development through production. Our first project that has been announced is an independent feature film called Dreyana Grooms. It's based on a true story, and we'll be shooting it this summer on location in Chicago.
@tilted.style
Talent Olivia Charmaine @olivia_charmaine
Photo By Dominique Oliveto
Interview Alexandra Bonnet @alexbonnetwrites