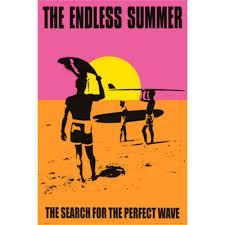 Summer is coming soon…and who says Summer says Surf! So back to the best surfing movies to watch again before dancing with the waves this summer. We still don't know if we'll have a real summer, so take the opportunity to enjoy these movies and travel! 
The Endless Summer (1968)
The crown jewel to ten years of Bruce Brown surfing documentaries. Brown follows two young surfers around the world in search of the perfect wave, and ends up finding quite a few in addition to some colorful local characters.
Big Wednesday (1978)
The lives of some California surfers from the early 1960s to the 1970s.
Point Break (1991)
An F.B.I. Agent goes undercover to catch a gang of surfers who may be bank robbers.
Blue Crush (2002)
As a hard-core surfer girl prepares for a big competition, she finds herself falling for a football player.
Chasing Mavericks (2012)
When young Jay Moriarity discovers that the mythic Mavericks surf break, one of the biggest waves on Earth, exists just miles from his Santa Cruz home, he enlists the help of local legend Frosty Hesson to train him to survive it.
By Justine Duclaux
Photos: website