OSKA & STU LARSEN x HONEYMOON PHASE / WIDE AWAKE & DREAMING COLLABORATION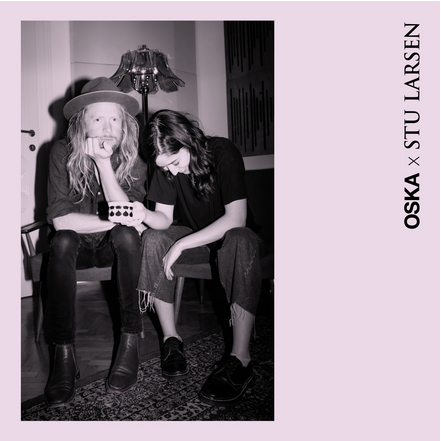 OSKA & STU LARSEN COME TOGETHER FOR
HONEYMOON PHASE / WIDE AWAKE & DREAMING COLLABORATION
Vienna-based indie pop singer/songwriter
OSKA
and nomadic singer/songwriter
Stu Larsen
have come together to lend their musical inclinations and voices to each other's songs for a special multi-track single called
Honeymoon Phase / Wide Awake & Dreaming
, available at all digital retailers now.
Listen
HERE
.
Of the collaboration, OSKA says, "A lot can happen in only one day. Stu Larsen and I were meant to record one song in one day. We decided to record two songs instead and put them together – classic overachievers."  Stu ads, "I am very thankful for that one day in Vienna. OSKA is special, and I feel lucky for the chance to meet and record together to get a glimpse of her world. For me, these two songs feel right together."
Watch + Share "Honeymoon Phase / Wide Awake & Dreaming":
OSKA recently announced that her debut EP Honeymoon Phase will be released on January 8, 2021. On it, she recalls her past and reflects on the various stages of her young life; her songs are slightly dimmed but never completely sinister as her sensitive singer-songwriter pop immediately casts a spell over her listeners. Growing up in a small village in Lower Austria, OSKA moved to Vienna at 18 to study her first love; music. Born into a family of singers and musicians, she discovered her voice at a young age. In Vienna, she started busking in streets and squares of the capital while also studying pop and jazz singing. She has worked tirelessly drafting and crafting her imminent debut, honing her voice to say exactly what she wants it to. After years in the background supporting and featuring for different artists, OSKA released "Distant Universe" earlier this year, and soon after, signed to Nettwerk.
Honeymoon Phase / Wide Awake & Dreaming Tracklisting:
1. Honeymoon Phase / Wide Awake & Dreaming
2. Honeymoon Phase (Stripped Duet)
3. Wide Awake & Dreaming (Stripped Duet)