CHYMES SHARES DREAMY NEW TRACK "MADE OF YOU"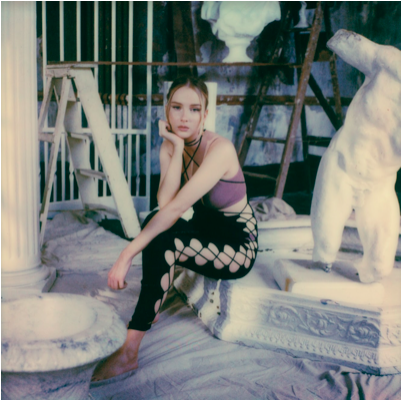 ALT POP ARTIST CHYMES ANNOUNCES NEW EP
SHARES DREAMY NEW TRACK "MADE OF YOU"
Australian alternative pop artist Chymes is excited to announce her new EP, Hell & Divine, is set for release on April 23rd, 2021. The EP is an energizing whirl of power struggles and finding one's voice, offering an intriguing push-and-pull of ethereal vocals mingled with assertive beats crafted by longtime producer and collaborator Cameron Taylor. Written and recorded following Chymes' recent diagnosis of Autism, the music was shaped by a newfound freedom to write from an introspective and personal headspace and a renewed sense of creativity.
Chymes explains, "It was a really massive life-changing moment. It totally uprooted everything for me: how I saw the world and how I saw myself. I understood myself a bit better and was able to approach my feelings and my ideas in a completely different way. I feel a lot more creative, in that sense. I prefer to write in concepts. Usually, I have a feeling or situation or idea that's personal to me, and then I write a story around it. Before I had my diagnosis, I was more detached, in a way."
Today, she shares the dreamy electro-pop single, "Made Of You," about the wasted efforts put into a failed relationship. Chymes adds, "'Made of You' tells a story of being in a relationship with someone where you put your absolute all into helping them grow and become who they are, only for them to leave you for someone else. I wanted the production to have a delicateness to it to hint at the vulnerability of the situation, and a little bit melancholy too, but then to feel bigger and heavy in the chorus with a bit of a "f*** you" in the lyrics."
With an ever-growing fan base across the globe following a tweet from BTS star Jungkook, Chymes has been streamed over 8 million times across Apple and Spotify. Her previous releases, "Euphoria" and "Sleepless," have been featured in numerous Spotify editorial playlists, including "New Pop Revolution," and earlier tracks "Dreaming" and "Wild" were featured on drama series Good Trouble. Before touring was halted due to Covid-19, she had supported Winston Surfshirt, The Preatures, Lastlings, Tigertown, Alice Ivy, Bad Pony, Evan Klar, San Mei, Austen, and more.
Stay tuned for more to come from Chymes soon.