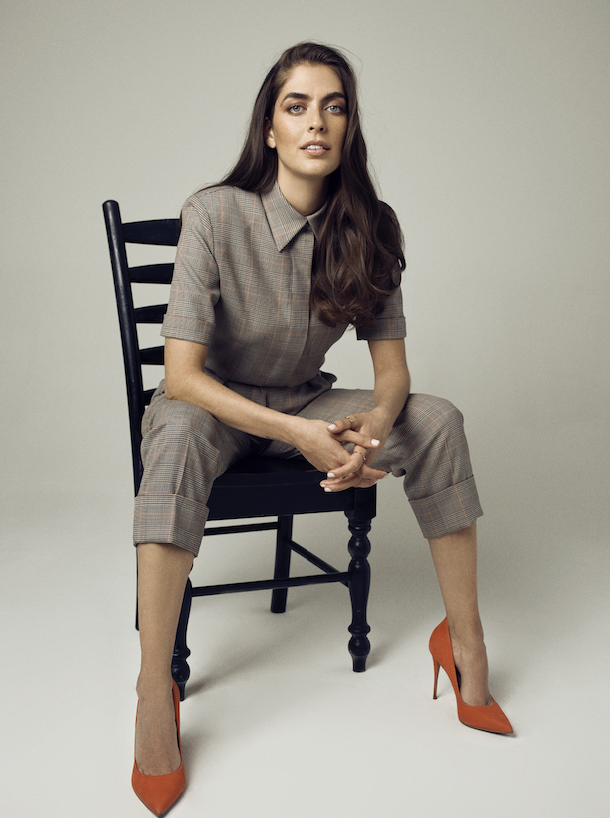 Best known for her lead role in the Sony hit series, 'Rosario Tijeras' (#1 on Netflix LATAM & Mexico), Ariana Ron Pedrique is now starring in her debut feature film, 'Ayar." This is proving to be her US debut, marking an important stepping stone in her life! We got to know Ariana a little more in our exclusive interview so keep reading as you are going to want to know more about this talented, passionate, and beautiful actress!
From Tv to film, what do you believe has been the biggest challenge? 
Honestly, they are both challenging in their own particular ways. In my experience, the most crucial difference I can find is the number of scenes you shoot per day. While working on TV, I've had 15 hour work days (or more) and shot 30 to 60 scenes per day. Meaning, the actual quality time you spend per scene can be very little compared to when you are filming a feature – your workdays can last the same number of hours, and yet, you might only be filming maybe six sequences per day. Sometimes it may even be just one, allowing you to dedicate that much more time and quality to each scene, which is always a gift.
In what ways do the lessons you learned from TV help your time in film? 
Working on TV has been a great way for me to hone my skill as an actor. My 10 000 hours of practice mostly come out of my work on TV, which I am deeply grateful for. And, inevitably, this will always be beneficial for me, regardless of the medium I am working at the time.
Ayar, for instance, it's a great example of this. Because we shot during the pandemic, we had to fit sometimes ten scenes per day, so I was happy to have all of my TV experience to bring to this film shoot. This schedule allowed us to finish shooting the film in 13 days and safeguard all the crew and cast from a potential exposition to COVID.
Why did you decide to get into the entertainment industry in the first place? 
Growing up in Venezuela, the highlight in my household was always getting the family together to watch movies. Ever since I was a child, I have always been touched by beautiful stories.
The first time I stood on a stage was when I was three years old. El Colegio Emil Friedman, the school I attended in  Venezuela from when I was three years old all to way to high school, focused on teaching the importance of connecting with our artistic side from a very early age. From percussion lessons, Llanera harp classes, dancing lessons, singing lessons to my first experience as a performer playing the role of Juliet in Shakespeare's iconic play, I was fortunate to have been under the wing of a school whose mission is to develop their students' full potential. But it wasn't until I was invited to join the Performing Arts School CEFAT located in Mexico City that I became fully aware of my passion for acting.
Tell us more about your film, AYAR. What are you most excited for the audience to see? 
Ayar tells the story of a Latina who returns home from her showbiz career in Vegas to reunite with her five-year-old daughter. But when her mother Renata refuses to let her see her due to the raging pandemic, Ayar is haunted by the many roles she's been forced to play.
I fell in love with the story the minute I read it. Ever since I became a professional actor, I have always wanted to be part of a story like this one. I moved to Los Angeles in the first place because I wanted to play a character like this. I loved the rawness of Ayar. The authenticity of the story. I felt connected with her as a human, as a woman, as an immigrant, and especially as a dreamer. As a Latina, I can tell you that we are hungry to see original, authentic stories that portray us in more interesting scenarios than what the limiting stereotypes in the industry usually suggest. In my opinion, Ayar achieves this on many levels. I am beyond excited and grateful that Ayar is currently in Theaters and On-Demand, available for the viewers to enjoy it and fully experience it.
Share with us what it has been like transiting into your first US break? 
 It's been a roller coaster of emotions for me!
When I first got here, I was on vacation. My life was in Mexico City. I wasn't expecting to stay. Yet, while I was here, I found out the lawyer who was working on my Visa application had committed fraud. I quickly had to choose between staying and trying to save my case, or going back home and potentially jeopardizing my application forever. I decided to stay, work on my visa, and believe in my dream. And it worked! A couple of months after finally receiving my Visa, I booked Ayar. I need to mention that I couldn't have achieved this without the village of amazing people who helped me get here. And I am deeply grateful for each and every single one of them.
In face of adversity, how do you overcome it? Do you have any stories you would like to share? 
It hasn't been easy, but I've learned to accept challenges as opportunities for growth. Sooner or later, we all encounter adversity in our lives, and I have made the conscious decision to accept it and do my best to see the silver lining in it, with compassion and kindness towards myself and others.
For example, when I first got to Los Angeles, I was told that I "am not Latina enough" and it impacted my ability to get auditions. This has been a tough challenge to overcome. And honestly, a crazy concept to grasp for me since not only was I born and raised in Caracas, Venezuela, but several generations of my family were born there as well. However, I have realized that this is just an amazing opportunity to show the world the true richness of our culture as Latinos. What started as an obstacle has now become my mission. So now, I don't just want to be successful for my own sake, but now I want to create opportunities for people of color as well, I want to create opportunities for "ethnic" people ––as I've been called before–– and hopefully open the doors for talented people who just look different than what we're used to seeing in Hollywood.
Tell us more about your upbringing and what your family dynamic was like. 
I grew up in Caracas and was lucky to always be surrounded by a loving family. My loved ones call me Ari, and I am the youngest of four. According to my siblings, I am the craziest one of all of us. I grew up surrounded by all types of pets – including even a wild snake. I love animals to this day. My husband and I currently have three lovely adopted Mexican pets, and we consider them a crucial part of our family.
My house growing up was always very loud. We always enjoyed hearing music all day long, which I think is typical of many Latino households. Especially our gaitas, which are the seasonal songs we listen to in Venezuela to celebrate Christmas and New Year's Eve. My mom would teach us to dance Salsa and Merengue in the middle of the living room. We would eat arepas every weekend. My dad would cook a barbecue every Sunday for the entire family, and then we would all get together in the TV room to watch a new film.
What do you believe your purpose is? 
Oh, good question! I am still trying to figure it out as I go. I believe as long as I am true to myself, and I am present with whatever I decide to do –– I can create something of value in this world. I can inspire people and, hopefully, connect with them in a meaningful way.
We see a lot of discrimination still very present in our world/ the industry. Have you experienced any yourself? Explain.
Unfortunately, yes. Being a "white Latina" in Hollywood is not easy. The stereotypes can be extremely limiting for anyone who looks different, which can be very hurtful for all of us who don't fit the preconceived description. When I worked in Latin America, no one ever questioned if I was a Latina. I've always been proud of who I am and my background. Yet, in Hollywood, sadly, the tendency has been to doubt my roots. I really hope my work can help broaden the conceptualized idea of what a LatinX ––or anyone–– does or should look like.
What do you think the key to true change is? 
Believing in yourself wholeheartedly. Giving yourself the necessary space to get in touch with your own truth, regardless of what anyone else tells you. And trusting it.
Where do you hope to be in five years?
I have so many dreams I would love to accomplish in the next five years… I'll tell you my biggest hope –– in five years from now, I want to see my life in retrospect and think: Everything has been worth it!
@tilted.style
Photos by Ben Cope
Interview by Alexandra Bonnet
Social Media: