PARAVI RELEASES COVER OF "HOME" ALONG WITH THE MUSIC VIDEO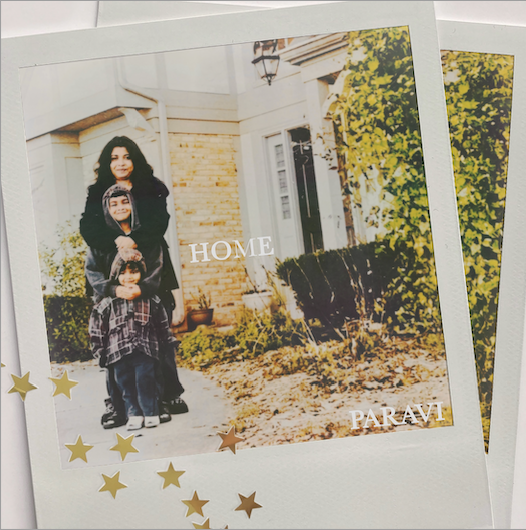 Singer/songwriter Paravi releases her cover of Edward Sharpe and the Magnetic Zeros "Home" along with the music video today. The video features a compilation of old home videos and pictures that Paravi gathered over thanksgiving while visiting her family. Check it out HERE.
About "Home," Paravi says, "i first covered this song after 2 million lovely humans followed me on tiktok, and the pure joy and happiness in that video was absolutely raw and real. i sang with every ounce of me thinking about how grateful i am to be able to create a home of my own, a place where i can sing and share my life, on the internet, all because of some kind and thoughtful people who have given me the privilege and platform to chase my dreams. home has never been a place, but a person, and home has always been you guys. ❤"
Paravi is in the production of WILD: A Musical Becoming which is currently playing at the American Repertory Theater in Cambridge, MA through January 2nd. The musical is written by Justin Tranter (Selena Gomez, Justin Bieber, Ariana Grande, Imagine Dragons) and Caroline Pennell (Demi Lovato, Selena Gomez) and stars Tony Award-winning performer and songwriter Idina Menzel. WILD is a new musical fable about Bea (Idina Menzel) who is a single mother struggling to hold on to her family farm and connect with her teenage daughter Sophia (Breanna Yde), whose determination to save the planet endows her and her friends with powers they never knew they had. Paravi plays the role of Forte who is Sophia's best friend. For more information visit HERE.
Additionally, Paravi has been working on new music and is excited to share more in the coming months.
About Paravi:
20-year-old Indian-American singer/songwriter and artist, Paravi has built an audience of over 3M followers and has amassed over 100M views and 10M streams independently. Majoring in Musical Theater at UCLA, Paravi turned to social media at the onset of the Global Pandemic. Initially, she posted a short vocal cover of BØRNS' "Electric Love" from her bathroom. Gaining traction, she recorded a full version on GarageBand with a $15 microphone from Amazon and uploaded it to DSPs without any expectations. It eventually garnered over 4.8M Spotify streams. Maintaining this momentum, she continued to build an audience with her covers and over summer, she officially released her viral cover of Beach Bunny's "Cloud 9" which has received over 9.8M streams worldwide. Paravi continues to carefully craft a style of her own, alternating between moments of vivid vulnerability and vocal vitality above organically warm production. She utilizes this sound to tell a new story for pop music.
To Buy/Stream/Watch "Home":
Multi –  https://smarturl.it/ParavixHome
Follow Paravi: