Atlanta's Danger Incorporated Drops Their Latest Track, 'Frankenstein'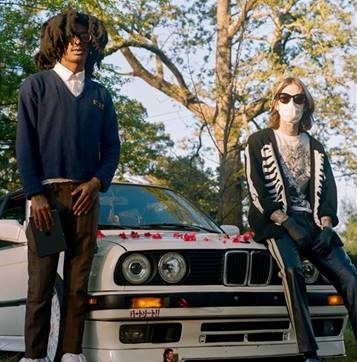 The mind bending and fusion creating duo that is Danger Incorporated (Boothlord and Louie Duffelbags), has just released the audio for their latest track, 'Frankenstein'.
Produced by Oogiemane of Working on Dying, the track creates a smooth almost trap-like sound, that shows off the skills of both Boothlord and Louie Duffelbags in a comfortable manner. The two know that they have a unique sound, and are extremely confident when presenting this. At a time when music can sometimes be extremely repetitive, Danger Incorporated is set on providing a different sound for their audience.
Prior to the release of the audio and visual for their track "Fucking For A Reason", the two managed to grab the December spot for Pigeons & Planes 'Best New Artist of the Month', and have since gained praise from Lyrical Lemonade as well as THE Fader.
About Danger Incorporated:
Emerging from the creative depths of Atlanta, Danger Incorporated is here to redefine what it means to be free of limitations. Toying with genres since they were in high school, Louie Duffelbags and Boothlord have always found themselves looking for the next best way to morph and manipulate familiar sounds into something that is unabashedly, Danger Incorporated. This never-ending search keeps the two endlessly inspired, always finding a way to be two steps ahead of their colleagues.
 It's this distinct ethos that caught the eye of Awful Records' Co-President, Gerry Newton. Quickly becoming the center of Atlanta's creative revolution, Danger Incorporated cultivated a fanbase that connected with their innovative and individualistic approach. Their first four releases, World Wide Web (2016), Are You Afraid of the Danger Boys? (2016), Birds Fly by Night (2017), and Danger Reality (2018), embodied this spirit, and pushed Louie Duffelbags and Boothlord on a mission to expand their creative influence. Soon after, the two began building a multi-room studio and performance space in Atlanta where they could experiment with different sounds, instruments, and recording methods. In 2019, Danger Incorporated released the tracks 'First To Last' and 'Wassup Phonies,' which continued to build on their left-of-center, genre-blending signature sound.
Listen to 'Frankenstein' HERE.
Photo: Josiah Rundles
By Matt Koger