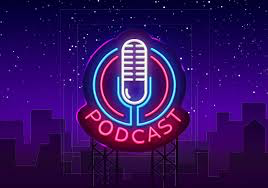 Global isolation and the expansion of work have led to a reconsideration of podcasts. They were once considered an effective way to accumulate information and news during brief moments of freedom of mind such as morning commute or before going to sleep. Forget Netflix and start learning new things…. And start choosing what's best for you today by learning lots of new things!
 

Keep It
For lively and thoughtful pop culture discussions, Keep It reigns supreme. Hosts Ira Madison III, Louis Virtel, and Aida Osman are all sharply witty and gifted with an ability to get at the deeper themes beneath entertainment and celebrity culture. They have an innate sense of what the world wants to obsess about right now and book top-level guests. A quarantine episode with appearances from Jane Fonda and Jeremy O. Harris? I rest my case.
 

Night Call 
 An established classic, Night Call pairs three cooler-than-cool L.A. hosts, Molly Lambert, Emily Yoshida and Tess Lynch, with an unbeatable format: Every Monday night, listeners call in to talk, leading the show down the most wonderful discussion paths. The show recruits a lively assortment of guests and recently shaped shows around monthly themes like Plastic Surgery April and Y2May (an exploration of Y2K), all of which are ripe for fascinating conversations.
 

The Kinswomen 
The Kinswomen hosts Yseult Polfliet and Hannah Pechter focus on the gap between white women and women of color and how better to navigate difficult conversations between the two. Born out of an event the pair attended at The Wing about cross-racial dialogue, the podcast takes a truly honest and open look at the angles people tend to avoid when discussing race and what white people can do to serve as real allies. Episode topics include everything from plantation weddings and the myths around Martin Luther King, Jr. to blackfishing.
By Justine Duclaux
Photos: Pinterest