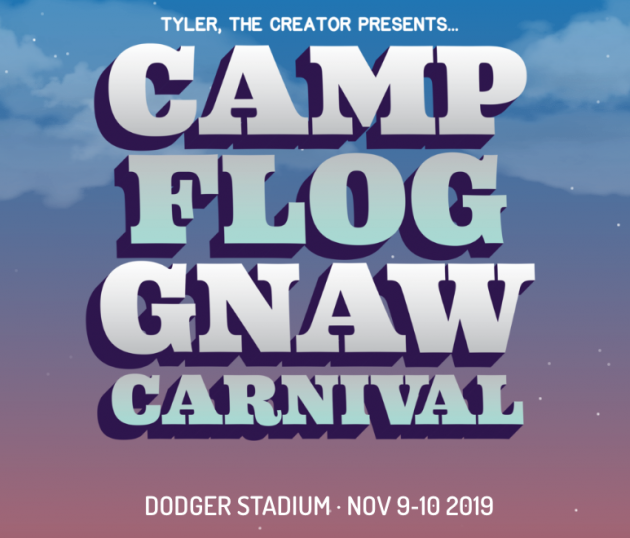 This past weekend was Tyler, the Creator's eighth annual Camp Flog Gnaw festival. Thousands of 20-somethings flocked to Dodger stadium in Euphoria makeup and fanny packs to party with 20 of the best hip-hop artists in music. The stadium transformed itself into a carnival with fair foods, amusement park rides, and three stages for the musical performances. The lineup, curated by Tyler himself, featured the likes of BROCKAMPTON, Solange, Willow Smith, and H.E.R.
The MVP for Day 1 is between Solange and Tyler, the Creator. In a black corset, Solange proved that her recent breakup wasn't stopping her from putting on a show. Her soulful, emotional set took a turn when she performed "Down with the Clique" with twerking cowgirls in the background. Tyler took the stage in a blonde wig and multi-colored suit, nodding to his Igor character. His set had the crowd moshing and rapping lyrics as he took them on a journey through his career. Fans belted along with Daniel Caesar's sexy ballads and JUICEWRLD paid tribute to Mac Miller and Nipsey Hussle during his "turnt-up" performance.
Day 2 proved to be just as good as the first, beginning with an appearance by the Smith duo of Willow and Jaden to bring up the energy for the day. FKA Twigs put on a godess-like show with complex choreography and costuming in her powerful set. The crowd went wild to Brockhampton in their matching orange jumpsuits, but went even more wild when YG brought out Stormy Daniels to sing "F*** Donald Trump" with him. The last performance of the night was a surprise, and fans were dismayed to find out it wasn't Frank Ocean. Flog Gnaw attendees were so disappointed that they boo'ed global icon, Drake, off the stage, which turned out to be the biggest headline of the event. Tyler even took to Twitter to express his frustration with the way his fans disrespected his friend Drake. Despite the absence of Frank Ocean, Flog Gnaw 2019 was another successful festival thanks to Tyler, the Creator.
By Sonja Grunfeld