Whoopi Goldberg Opens 'Whoopi=American Dream' Pop-Up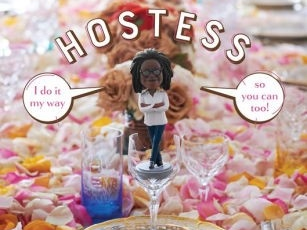 The talented and hilarious Whoopi Goldberg is making moves into retail as she made an appearance at the opening of her new pop-up shop in New Jersey. The American Dream mega-mall in East Rutherford is holding its first retail activation in Whoopi's "Whoopi=American Dream" dream drop. The pop-up is her first stand-alone retail experience, where she will hold her clothing line (DUBGEE), new book, and other Whoopi-esque products. To celebrate the opening, she spent the afternoon greeting guests as her granddaughter, Amarah Skye hand-painted on fans' DUBGEE purchases.
The American Dream project has been a highly anticipated project with 3 million square feet of retail, entertainment, and dining space. The $5 billion project will feature the Nickelodeon theme park, an NHL ice rink, a ski slope, a giant ferris wheel, and a Dreamworks water park. Joining the mega-mall is also "Whoopi=American Dream." DUBGEE is Whoopi's body positive clothing line, which features minimalist tunic dresses and breezy graphic tees, inspired by Whoopi's own famous personal style. The inclusive line is meant to show women that you can feel good no matter what size you are and you should never feel bad about the clothes that you're wearing.
Shoppers can also buy Whoopi's book, The Unqualified Hostess, or try on vintage holiday sweaters. The interior of the pop-up is inspired by Goldberg's own home, showcasing saturated walls and Art Deco pieces curated from her own collection. You will find memorabilia covering the walls of past movies Whoopi has starred in and even plants from her own garden. "Whoopi=American Dream" from now through January 2020, so don't miss your chance to check it out.
By Sonja Grunfeld