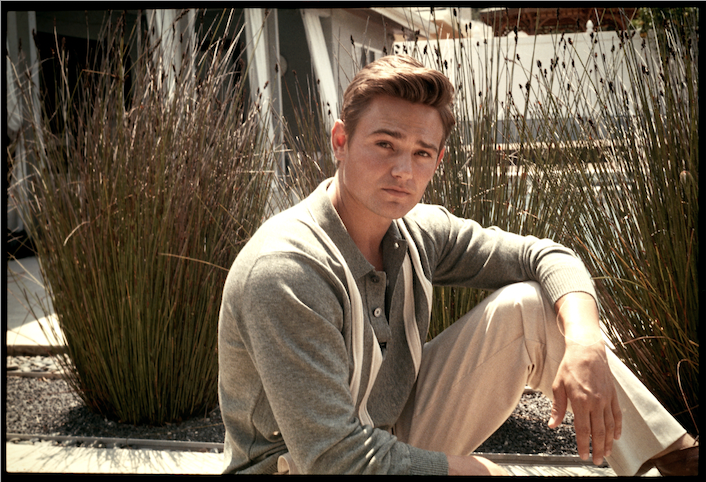 Singer and actor, Carson Boatman, recently released his new single  NAME IN YOUR PHONE and stars in the indie feature RUNT distributed by 1091. The film marks Cameron Boyce's final role and has a very timely and powerful message. In the film, Carson was able to explore a character that is very different from who is on a daily basis. A challenge he welcomed with open arms. Excited to finally have his different projects out, whether it be his music or film, he is soaking in all that life has to offer. Ready for what comes next, we can expect great things from Carson Boatman!
When did you know you wanted to become an actor? And how did your career start?
I've always loved movies ever since I was a little kid. There's nothing more magical than sitting in a movie theater and letting our story take you to another place. I started my career in 2013 when I moved to Los Angeles. I was fortunate enough to sign to a manager pretty early on. She sent me on my first audition, and here we are eight years later.
Was anyone in your life opposed to this career choice? If so, how did you handle it? If not, explain. 
No. I am lucky to have a lot of very supportive people in my life. Sure, there was a little hesitation coming from my parents, as I think most parents have when their child tells them they want to move to Los Angeles and become an actor. I think that's normal though.
You have worked on two recent projects: NAME IN YOUR PHONE and RUNT. In what ways did each project highlight your different skills? 
Thank you for asking! Working on Runt was an incredible experience. The role was challenging because I was playing such a ruthless and violent character. I generally try to be a pretty nice guy, so playing that contrast was very fun and interesting. As for Name In Your Phone, it's a song that I wrote and recorded with some great friends of mine. I put it out last month, and you can find it on all streaming platforms!
What did you discover about yourself in RUNT? 
During the filming of "Runt", what I realized is that we all have a little bit of everything inside us whether it be good or bad, and it's up to us to nourish what we want to shine through.
Share with us an example of a time where you were faced with a challenge and how you overcame it. 
As someone pursuing a career in the entertainment industry, I can't say that I'm a stranger to failure or disappointment. For every yes heard, there's also been what seems like a 1000 no's. I think the best way to overcome a challenge is knowing where you want to go and having the confidence to know that you'll get there. Everything in between is just temporary.
In our world today, beauty has a variety of meanings. What does beauty mean to you?
Confidence is beauty. I hate that beauty is based on outward appearance. I think if we can find a way to be happy and healthy both mentally and physically, regardless of what it looks like, that's beautiful.
In love, what do you believe are the top most important ingredients to a successful relationship? 
Communication
Trust
Forgiveness
Where do you see yourself in the next 5 years? 
I'm really happy where I'm at with my career and my relationships. So I'm not in any rush for a major change, but open to whatever comes next. In the next five years I see myself still acting, maybe producing, and actively involved with helping my local community and beyond.
What do you believe your purpose is?
I really don't know if I can answer that question. I think maybe I am still searching for my purpose. I do know, however, what I am passionate about. I am passionate about connecting with people through art. I think there's something really special about taking on a character or writing a song even though maybe I haven't actually lived these experiences in my own life. They can be conveyed in a way that other people will see and relate to.
Describe to us your dream role. 
My dream role would be something along the lines of how Robert Downey Jr. played Iron Man. Something that has a lot of action, a little bit of comedy, and all the heart.
What comes next?
Hopefully, something that has a lot of action, a little bit of comedy, and all the heart! Haha
@tilted.style
Talent Carson Boatman @carsonboatman
Interview Alexandra Bonnet @alexbonnetwrites