Concern Foundation's 45th Annual Block Party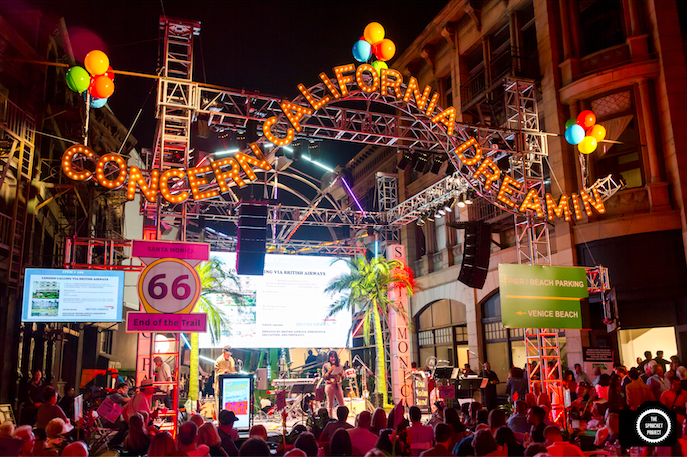 Last Saturday on July 13, 2019, the Concern Foundation (CONquer CanCER Now) for Cancer Research hosted its 45th Annual Block Party, wowing all who were in attendance.  This year was particularly special due to the celebration of the Carroll Family who were awarded the Lifetime of giving Award for their ongoing dedication to the Concern Foundation.  The event took place at the Paramount Studios backlot in Hollywood, providing a variety of live entertainment, casino style games, live and silent auctions, and plenty of food and drink from over 70 of the best restaurants in LA for guests to enjoy! One of the silent auction items which stood out was donated by Australis and ProTravel: a four night cruise on Australis for two people. Some of the places the cruise will visit include Punta Arenas in Chile or Ushuaia in Argentina, to the legendary Cape Horn. What a dream !!
If you're anything like me, you'd be astounded by the vendors present at the Block Party, including Vibrato Grill Jazz, Fogo de Chao, Urban Oven, Oak Smoke BBQ, STK Los Angeles, Button Mash, Bertha Mae's Brownie Company, Mychals, Buzz Bar, DeLuscious Cookies & Milk, Fry Girl, Bar Hayama El Floridita,, Dulan's on Crenshaw Soul Food, Nuda Tequila, Tito's Handmade Vodka, Asahi Beer, Weaver's Coffee and Tea, Humboldt Distillery, Bulletproof, and Dulce Vida Tequila.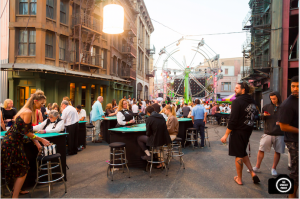 In addition to enough choices to satisfy any foodie, guests lounged at Los Angeles Magazine's street, which featured relaxing lounges, photo booths, DJ dancing, and more. Beyond Los Angeles Magazine's street, music lovers could enjoy multiple concert stages, as well as limited edition poster giveaways sponsored by A Good Print, Island Ink airbrushed tattoos, spa services provided by Beauty Bus Foundation, a Ferris Wheel, and much more. The Block Party was a dream for all to attend, perfectly matching the "California Dreaming to Conquer Cancer" theme.  What's more, all 4,000 guests helped successfully raise over $1.8 million for cancer research. The donations from this year's event contributed to the over $68 million in donations the Concern Foundation has made through the Block Party for the past 45 years, making this year's block party a dream come true.
"The Concern Foundation event last week at Paramount Studios was a memorable evening for the Carroll family.  We were so pleased to be a part of such a successful evening – over $1.8 million raised to fight cancer, wow!  What a tremendous effort by the Concern staff and all the volunteers who work so hard for this wonderful organization."  John Carroll
By Sam Spotswood
Photos by Chad Villaflores