Ed Sheeran's Musical Decline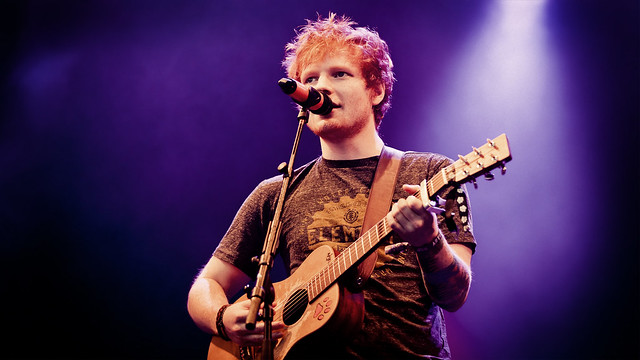 In recent weeks, singer-songwriter Ed Sheeran has released a series of six new singles in advance of his fourth studio album, No.6 Collaborations Project (released July 12, 2019).  Each of the singles, like the album's name suggests, features other global superstars, including Justin Bieber, Chance the Rapper, PnB Rock, Khalid, Chris Stapelton, Bruno Mars, and YEBBA.  Sheeran, who rose to fame for his fusion of poetic lyricism and folksy aesthetics characterized by his guitar and loop pedal, seems to have lost his initial idiosyncratic charm reminiscent of his influences Eric Clapton and Bob Dylan.
Compare No.6 Collaborations Project's departure from his previous unique productions to his very first release, No.5 Collaborations Project (2011), which established his working class, folksy musical themes.  While No. 5 Collaborations Project prefaces the haunting angst, vulnerability, and raw storytelling of his debut album, +, No. 6 Collaborations Project so far suggests that Sheeran is opting for an edgy pop sound.  With the exception of "Best Part of Me" featuring YEBBA (a song that follows follows in line with Sheeran's other wedding-worthy ballands like "Perfect" and "Thinking Out Loud") and "BLOW" (an aggressive rock n roll track), Sheeran's latest releases are disappointing and wholly uncharacteristic of his past work.  In contrast, his other singles, including "Beautiful People," "Cross Me," and "I Don't Care," are not particularly special. He's swapped out his signature acoustic guitar and loop pedal for synthetic instrumentation, something that set him apart from his musical peers when he first emerged onto the scene. In addition, his past distinctive "realness" in regards to his intelligent and self aware songwriting (heard in "You Need Me, I Don't Need You"), has been erased in these singles.
Though his attempt to dive into new genres is an admirable and important part of an artist's growth, each single seems to fall into the same pattern in regards to meter, lyrical content, chord progression, and general melody–essentially, each song sounds "the same," and adopts the vapidness of much of today's music, unlike the contemporary folk music that made Sheeran notable in his peak in the early to mid 2010s.  Let's hope the rest of No. 6 Collaborations Projects resurrects the Ed Sheeran we know and love.
By Sam Spotswood
Photo Credit: Tom Øverlie, P3.no