Joywave's Powerful New Music Video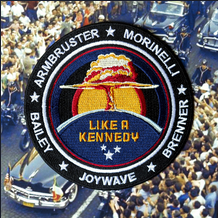 Born out of frustration regarding media exhaustion, and the epidemic of gun violence plaguing the United States, Joywave's new music video speaks to our desensitization Americans seem to have regarding the violence in our country.  The video opens as a recreation of the 1963 assassination of President John F. Kennedy as he drove through Dallas in his presidential motorcade. However, rather than First Lady Jackie O and Secret Service Agent Clint Hill desperately reaching for the dying president after being struck with a bullet, the two passengers and the driver stay completely still, unaffected by the atrocity that just took place.  People dressed in hazmat suits drag Kennedy from the motorcade, wiping down his seat before replacing him as if nothing happened. This sequence continues throughout the video, before all of the members of the motorcade are shot.
In addition to the disturbing video, the lyrics of the song, while seemingly demure thanks to the musical composition, are just as shocking. Daniel Amburster, the band's lead singer, sings haunting lines speaking to modern day ills, including, "Are they gonna bomb us all?/ I don't know./Do you think they'll build the wall?" and "Do we shoot 'em all dead?"  In regards to the song and its themes, Amburster said, "Nobody is surprised by the violence and no action is taken each time that it occurs. The violence is allowed to just continue and continue and continue. Obviously that is very relevant to where we're at now.
Every time there's another mass shooting, all these people die, and you know, thoughts and prayers. And nothing changes."  Though the song and music video may make audiences uncomfortable, that is exactly the intention behind the artistic choices that were made–making audiences uncomfortable will force them to interact with why they feel that way, likely resulting in their rethinking of larger issues of media exhaustion and gun violence at hand, which will hopefully, finally, result in change.
By Sam Spotswood
Follow Joywave:
http://instagram.com/joywavemusic
http://facebook.com/joywave
http://twitter.com/joywave
http://joywavemusic.com