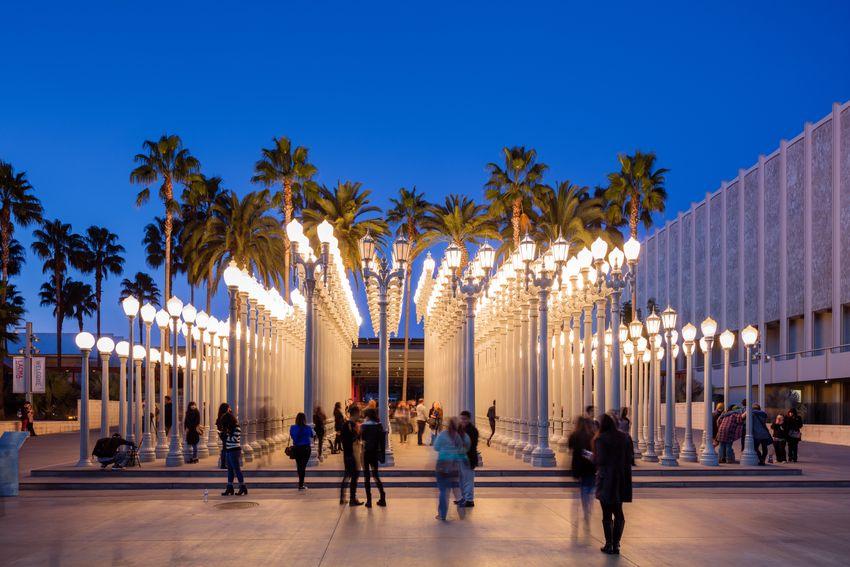 800 guests of the Hollywood and art world made their way to the Los Angeles County Museum of Art for their 9th annual gala. The buzzworthy event, sponsored by Gucci, sought to combine the icons of art, fashion, film, and music together to raise money for the museum's future exhibitions and programming and celebrate two important figures in the arts. Designed to merge the worlds of art and cinema, this year's honorees were 93-year old assemblage artist Betye Saar and Oscar-winning filmmaker Alfonso Cuarón. "They're both legends in their fields," LACMA Director Michael Govan announced during his introduction speech. Saar's "Betye Saar: Call and Response" is currently on display and the museum recently displayed a collection of stills from Cuarón's Academy Award-winning Roma. 
Eva Chow and Leo DiCaprio co-hosted the event, deemed as an important opportunity for the art and film communities to communicate. John Legend presented the first award to Betye Saar, an artist who he believes she is "an icon of feminism and the black arts movement." Netflix's chief, Sarrandos, came to the stage next to award Alfonso Cuarón, "a master of cinema who helps us connect to ourselves and remember that the world is so big and so small." Donald Glover joined to welcome Cuarón onstage, who he admires for inspiring so many of his own projects.
The guests, mostly clad in Gucci, spent the night dining on gourmet dishes by award-winning chef Joachim Splichal of Patina and dancing to a performance by Grammy-winner Anderson.Paak. Only LA knows how to combine the likes of Tyler the Creator, Billie Eilish, Salma Hayek, Laura Dern, and Leonardo DiCaprio. Actors, filmmakers, and musicians joined together to raise a record-breaking $4.6 million to continue LACMA's efforts of bringing the public the best and most sought-after arts and culture.
By Sonja Grunfeld