Pharrell Williams and Jean Imbert Open a Restaurant in Saint-Tropez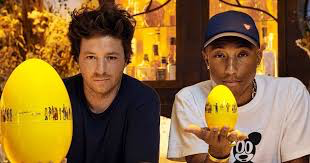 After the success of their restaurant in Miami, which opened at the end of 2018, Jean Imbert, chef and friend of the stars, and Pharrell Williams, have decided to set the table again. On his social networks, the great chef announced the imminent opening of a restaurant in Saint-tropez.
They have been friends for several years. After the opening of Swan in Miami, Pharrell Williams and Jean Imbert sealed their friendship once again with a new restaurant, this time in the south of France.
This new restaurant was named ToShare, reports the Var-Matin. An evocative title, since it means "partager" in French. It was the chef himself who announced it on his social networks: "Pharrell and I are opening a café-restaurant in 10 days in France" with a photo. 
Jean Imbert recruited Diego Alary as executive chef, former candidate of the 2020 edition of Top Chef. The latter indeed confided: "It just so happens that I'm going to be executive chef for the opening of a restaurant of Jean Imbert. It's going to be very heavy! I'm going to be in charge of opening a restaurant in his image. It's going to be a great experience for me". A five-star cast for this new restaurant, which is about to open.
About Jean Imbert: 
He has been spotted with the biggest names in the world such as Emily Ratajkowski or Jay-Z, and is known throughout France through his participation in numerous cooking shows. Jean Imbert should attract crowds with this new project. Associated with musician and producer Pharrell Williams, the chef has already launched the restaurant's website, whose menu should be unveiled in the coming days. 
By Justine Duclaux
Photos:Pinterest