Solange Debuts Bridge-s At Getty Center Museum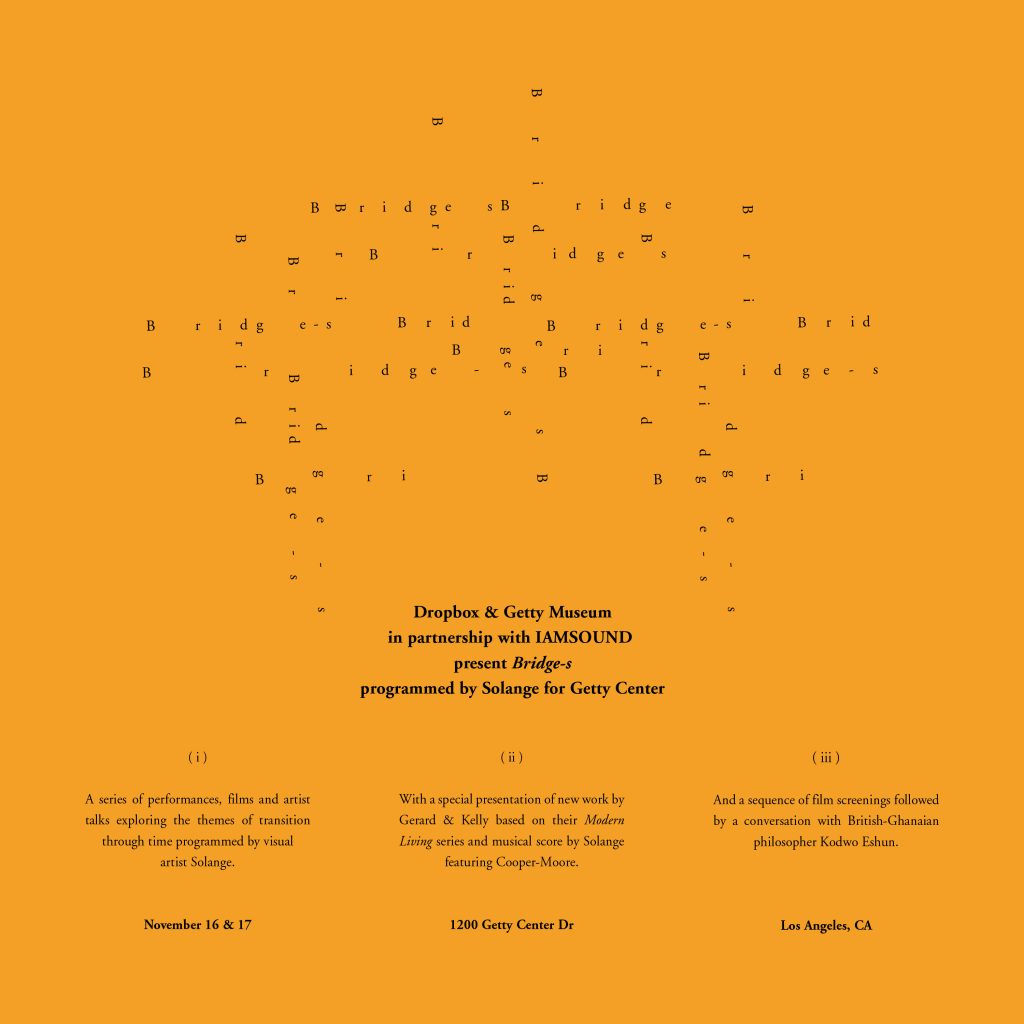 Grammy award-winning musician and visual artist Solange Knowles is bringing a series of performances and films to the Getty Center Museum this weekend. The series curated and programmed by Solange herself explores the themes of "transitions through time." The event will be free and open to the public, powered by Dropbox and Getty with IAMSOUND. "Bridge-s is a reflection on how much transition can be controlled and accelerated by our own ideas, thoughts, and movements vs. the natural process of time and space. The works chosen to respond to these ideas are dear to me, and by artists, musicians, philosophers and filmmakers I have an immense amount of respect for. I couldn't be more excited to program works that speak to the core of these themes alongside the Getty Museum," shared Solange about the upcoming event.
Choreographed specifically for the architecture of the Getty, Gerard & Kelly are presenting new work from their Modern Living series. The performance will be co-directed by Solange, who also composed Bridge-s with Cooper-Moore to bring it to life. The two-day event will also feature screenings of Mother Tongue, Mother Master, 2018 by Phoebe Collings-James, Wild Seed by Samuel Hindolo, Diary of an African Nun and Four Women by Julie Dash, Black to Techno by Jenn Nkiru, and AFRONAUTS and Boneshaker by Nuotama Bodomo to name a few. Solange has gathered such a talented group of artists for the debut event.
This isn't her first rodeo at conducting performance art, though. Solange has exhibited video art installations at London's Tate Modern and premiered Metronia, and interdisciplinary video and dance piece, at the Hammer Museum. LACMA, V&A, and The Brooklyn Museum have all debuted her extended director's cut arts film When I Get Home. The ever-talented Solange has conquered many facets of music and art, selling out Radio City Music Hall and receiving the Glamor Women of the Year award. Be sure to visit The Getty Museum this weekend for a taste of Solange Knowles' talent in the arts.
By Sonja Grunfeld