Striking Vipers: Lovers or Fighters?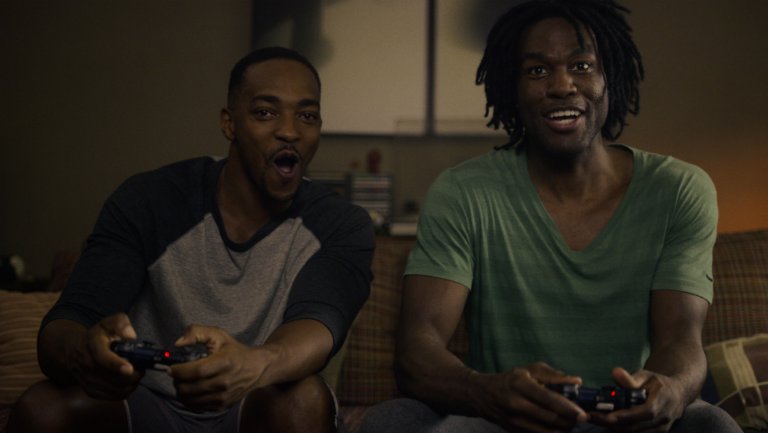 The long anticipated fifth season of the hit sci-fi anthology series, Black Mirror, is now streaming on Netflix and although the heavy emphasis on technology still stands, viewers are experiencing some clear tonal differences in comparison to the show's previous four seasons.
Right off the bat, we are given episode 1, "Striking Vipers," which explores a virtual reality gaming system. Although this is not the first time we've seen Black Mirror toy with the concept of virtual reality, this episode delves deeper into constructs of sexuality when old friends, Danny and Karl play the updated version of their favorite game, Striking Vipers X.
Danny chooses a male avatar, while Karl selects a female and the pair realize that they can experience the exact same physical sensations as their avatars. Interestingly enough, this eventually leads into a sexual relationship between their avatars. As the screenplay continues to unfold, tensions become high and the game begins to affect Karl and Danny's relationship outside of the game.
"Striking Vipers" asks us to consider if playing as a different gendered avatar in a VR game changes who we are in real life as well as whether or not sex can be turned into a video game just like violence has. Unlike previous conclusions to Black Mirror stories, "Striking Vipers" ends on a happier note, as the men learn that they can separate themselves from their virtual avatars while still living the life they led before the game proving that technology doesn't have to affect us in a negative way.
We're not sure if the same positive tone seen in Black Mirror's season 5 will persist in the future, but we can't wait to find out!
By Carly Pearlman
Photo Credit: (Netflix)Anthony Mackie and Yahya Abdul-Mateen II in 'Black Mirror' season 5